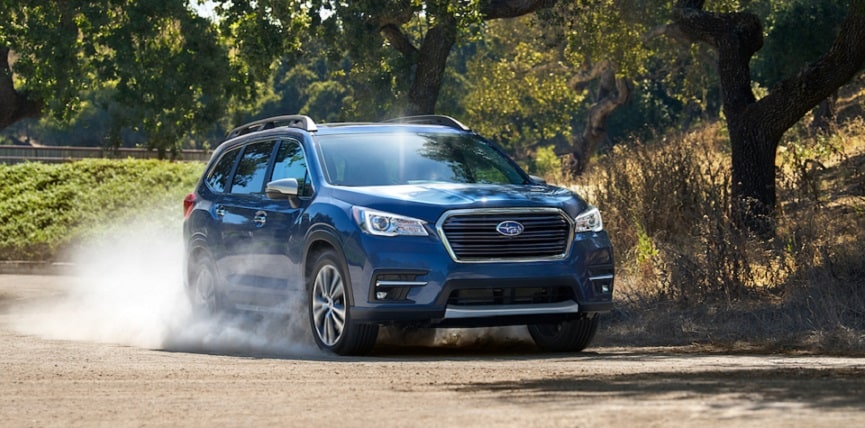 Lease a Subaru Ascent
Near Cleveland, OH
New Subaru Ascent Lease Specials at Ken Ganley Subaru Bedford Near Cleveland, OH
With a healthy stock of new Subaru Ascent SUVs, Ganley Subaru of Bedford extends lease specials to the greater Bedford area.
Considering the premise of a lease special, these Subaru Ascent SUVs feature cost savings for undoubtedly the most capable SUV winding through Cleveland roads and urban gridlines. And with leasing comes certain benefits not found with purchasing.
Subaru Ascent - Details Encompassing
Subaru Ascent is a testament to Subaru qualities of dependability and reliance. And the following features are sure to spur interest in those commensurate lease specials at Ganley Subaru of Bedford:
Eight passengers may be seated comfortably.
The ability to tow up to 5,000-lbs. is almost astounding.
Look to earn 27 mpg when traveling highways outside Cleveland.
EyeSight® driver-assist technology is state-of-art, as with Subaru STARLINK multimedia and security systems.
Five Subaru Ascent trims are available for leasing and those specials providing savings and affordability.
A palette of eight exterior colors do much to personalize your ride through Bedford.
Ground clearance of 8.7-inches is very accepting of adventure or snow-driven, Cleveland boulevards.
Why Lease a Subaru Ascent From Ken Ganley Subaru Bedford?
Leasing Subaru Ascent from Ken Ganley Subaru Bedford is found coupled to benefits too difficult to ignore. And the following advantages are enticing on their own:
APR (Annual Percentage Rate) of 0.9% may be applied over the entire lease period.
Cash due at signing is often nominal without requirement of a security deposit placed.
Upon your Subaru Ascent lease nearing its end, you may lease anew an updated Subaru Ascent in three-years, purchase the currently leased Subaru Ascent outright, or just walk away.
Subaru Ascent shopping may be performed at home in Cleveland with online financing tools at your disposal.
Ken Ganley Subaru Bedford - Home to 2022 Subaru Ascent Lease Specials
Visit our local Bedford area dealership to learn more about leasing the Subaru Ascent and saving with current lease offers.