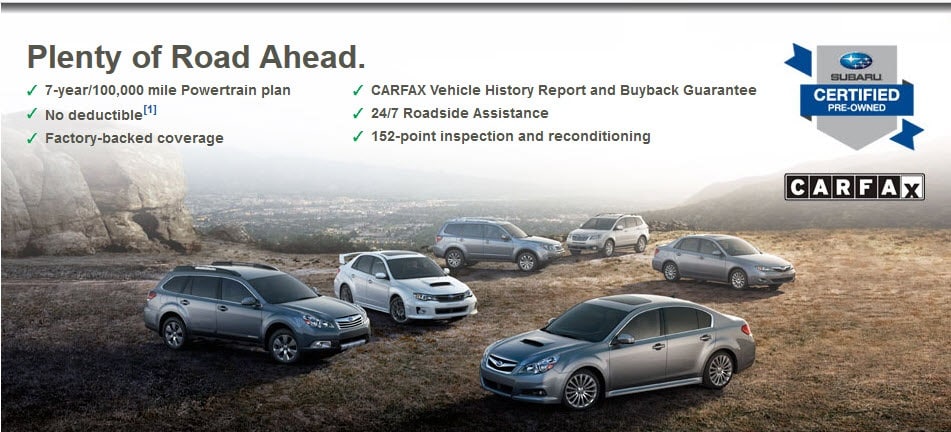 Sales:    (888) 853-6593
Subaru CPO Process

At Ken Ganley Subaru Bedford every Certified Pre-Owned Subaru gets a 152-point safety inspection, where anything that doesn't meet our high standards is repaired or replaced. From brake pads to tire tread depth, our inspections are extensive and performed by genuine Subaru technicians. These reports are made available for your review. So you can be confident that your Subaru is fully checked, factory-covered and ready for new adventures.
Trust your Family with a Certified Pre-Owned Subaru
People know what they are getting when they buy a Subaru. That means they know that the certified pre-owned models will be as safe as the new ones. When reading reviews, a person will find several that all will say phrases like comfortable, predictable, and practical. Those in Cleveland know this, which is why we see so many on the road. People want to know what they are buying, which we can show at Ken Ganley Subaru Bedford.
Contact Us!
* Indicates a required field
Hours
Monday

09:00am - 08:00pm

Tuesday

09:00am - 06:00pm

Wednesday

09:00am - 06:00pm

Thursday

09:00am - 08:00pm

Friday

09:00am - 06:00pm

Saturday

09:00am - 06:00pm

Sunday

12 to 5pm - last 2 Sunday's of the month
What Does It Mean to Be Certified Pre-Owned?
The first question of anyone looking to buy a car will ask what requirements have to be met for a used Subaru to become certified pre-owned. That answer is that the dealership has to do a 152-point inspection. This list has everything from getting a CarFax report to checking for serious mechanical issues. A person will even get to see the report if they need to make sure that their purchase meets the high standards they expect around Cleveland. The customer will even get to sign the list with the technician that performs the inspection.
The next question a potential customer will ask is what benefits they get from a certified car. There are some benefits past having a vehicle that can they can trust as if it was new. This will mean that the car is no older than five years and has only been driven 80,000 miles at most. The new owner will get roadside assistance. These and a few more benefits make sure the vehicle will have people asking where a person got such a deal.
Exclusive Benefits of a Certified Used Subaru
A customer will get a warranty on top of the checklist and other benefits. This is a seven-year or 100,000-mile warranty. The standard covers a thousand parts over the entire vehicle in all the major areas. The gold plus adds another thousand parts. Both offer roadside assistance, but the available Gold Plus adds in lodging and meals if the customer is away from home. Ask Ken Ganley Subaru Bedford for exact details on all these benefits to a certified pre-owned vehicle.